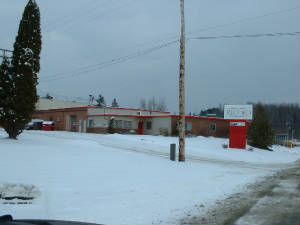 The Record office in Sherbrooke, QC. Brion Robinson Photo.
The Record is the second biggest English daily paper in Quebec. It's located in Sherbrooke and serves the Eastern Townships in south eastern Quebec.
Here are some of my most interesting articles.
Hungry pets found picking at dead owner
I was assigned to this story after the police notified the office a dead woman had been found in her apartment. I thought it would be a brief piece until the police spokesman told us the dead woman's pets had eaten part of their owner.
Girls cook up support for Quebec Lodge
A handful of elementary school girls decided to hold a bake sale to raise money to save their local summer camp (valued at some one million of dollars) from being sold. I thought it was a cute story with all the innocence of being a child.
Camcorder copies: Taping movies as they play on the silver screen
This feature piece looks at movie pirating and its effect on local cinemas. It also looks at how police are trying to crack down on the illegal movie recording and how federal law works for pirates operating in Canada.
Sherbrooke man waits out [Hurricane] Katrina and her waves
This was a fun story where I spoke with a local man waiting out Hurricane Katrina in his hotel room. His details were great but he seemed a little annoyed with my call.
Bell may be melted down: Thieves grab part of church's history
This story was a follow-up (of sorts) to a rash of metal heists taking place around Sherbrooke. Thieves had been stealing scrap metal to be sold and melted down. The church bell that was stolen was worth thousands and had a long history to boot. A sad chapter for the church's dedicated volunteers.